Entering your Educator Code
As an Educator, the first time that you log on to the Assessment Tool you may be asked to enter an Educator Code to activate your Educator account.
This will only happen once, the first time you log onto the Assessment Tool, and only if your Organisation Administrator has not entered your ESAA ID prior to your logging on.
After logging in via ESAA, you will be prompted to enter your Educator Code, see Figure 1, after which you will be directed to the Home tab in the Assessment Tool.
If you have not received your Educator Code, please contact your Organisation Administrator and ask them to resend it or to provide it to you.

It may help them if you tell them that this can be done by locating you in the Assessment Tool under the Educator tab, and then selecting View Details. The Educator code can be found in the side menu under the Educator Details panel, and can be e-mailed (if your email address has been entered) from the Manage Educator panel.

If your Organisation Administrator cannot locate you at all in the Assessment Tool, then they may need to create your account in the Assessment Tool before you will be able to log in.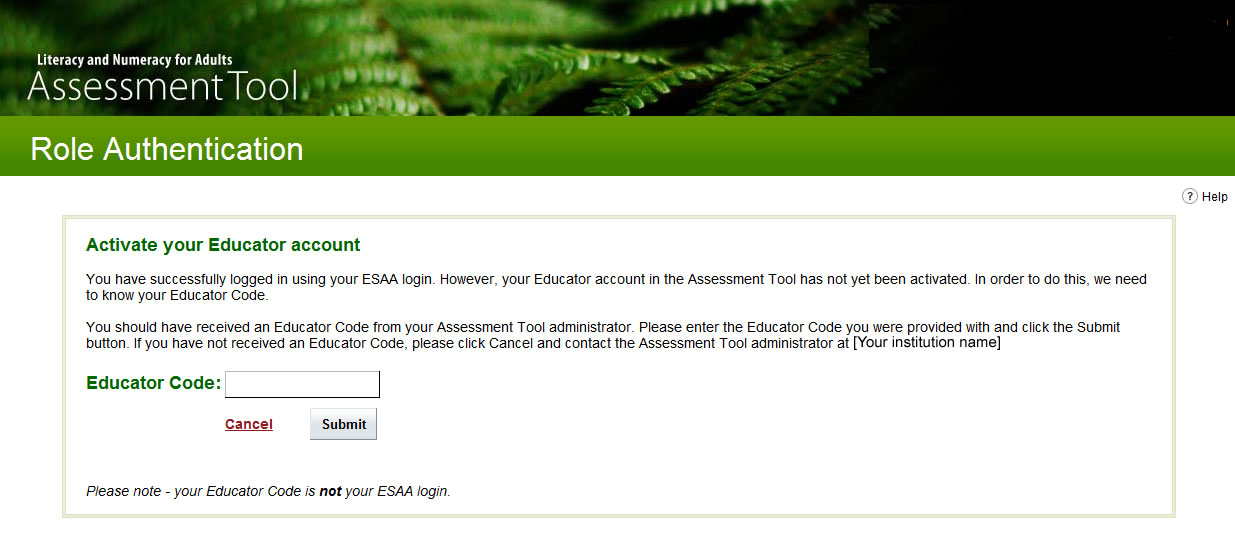 Figure 1: Entering your Educator Code