Assessment Summary Report
This Report shows a bar chart that summarises the performance of the Learners who completed an Assessment. The Assessment Summary Report allows you to see at a glance the distribution of achievement across the Assessment. More information about the Learners is listed below the chart. This Report has links to the Learner Assessment Reports.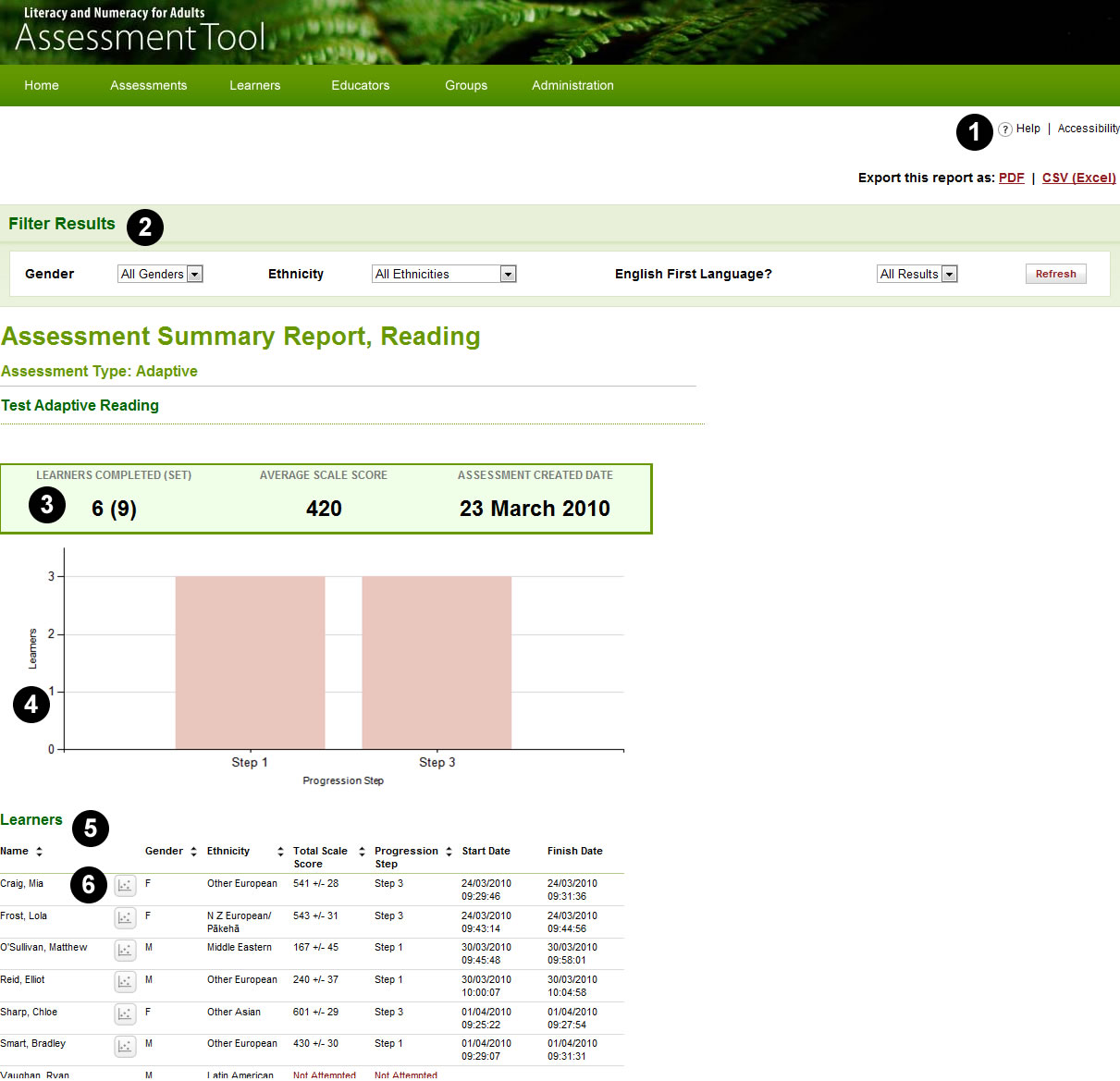 Key to numbers
1. Export this Report. You can download and keep a record of this Report as a PDF or CSV (Excel spreadsheet) by clicking on one of these links.
2. Filter Results. You can filter the data using the dropdown lists on this bar. You can filter by Gender, Ethnicity, or by English as a first language, to show selected Groups of Learners. In this example, no filters have been used.
3. Report summary. This bar provides information about the completed Assessment that is summarised in this Report:
• The number of Learners shown on the Report (in brackets, the total number of Learners assigned to the Assessment)
• The average score of all the Learners shown
• The date on which the Assessment was first created (not necessarily the date on which the Learners took the Assessment – see 5 below)
4. Bar chart. The vertical axis indicates the number of Learners. The horizontal axis shows labels for the Learning Progression Steps achieved by the Learners. In this example, six out of nine Learners completed the Assessment. Of the six, three Learners achieved Step 1, and three achieved Step 3.
5. Learners table. The table below the bar chart provides more detail about the Learners assigned the Assessment. All Learners or a selected sub-group will be shown, according to the filter selections that you have made (see 2 above). From left to right, the columns show, for each Learner selected for this Report:
Name
Gender
Ethnicity
Result on this Assessment expressed as a Scale Score
Result on this Assessment expressed as a Step on the learning progressions (if the Assessment is a Snapshot Assessment with a threshold applied, the threshold decision will also be shown).
Date on which the Learner started this Assessment
Date on which the Assessment was completed (if different to start date).
6. Link to Learner Assessment Reports. An icon of a graph appears next to the names of the Learners who have completed this Assessment. Click on the icon to view an individual's Learner Assessment Report.
More detailed information on the Reports in the Assessment Tool can be downloaded in PDF format here.